Kybella Jacksonville
KYBELLA® is the first and only FDA-approved injectable treatment to improve the appearance of moderate to severe fat beneath the chin by physically destroying fat cells.
If you're bothered by the fullness beneath your chin, you're not alone.
According to a 2015 survey conducted by the American Society for Dermatologic Surgery, 67% of people said they are bothered by the fat beneath their chin, or what your healthcare provider may refer to as "submental fullness associated with submental fat."
What causes submental fullness?
Submental fullness due to fat beneath the chin can impact a broad range of both male and female adults. Some possible causes are genetics, weight gain, and aging.
How does KYBELLA® work?
When injected into the fat beneath your chin, KYBELLA® destroys fat cells. Once destroyed, those cells cannot store or accumulate fat. The active ingredient in KYBELLA® is deoxycholic acid, a naturally occurring molecule in the body that aids in the breakdown and absorption of dietary fat. Fat cleared from the treatment area is processed through your body's natural metabolism.

Clinical Studies
In clinical studies, 79% of people treated with KYBELLA® had improved satisfaction with the appearance of the area beneath their chin (compared with 34% of people treated with placebo) 12 weeks after last treatment.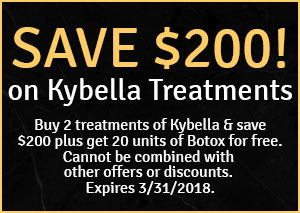 How many treatment sessions will I need?
Your healthcare provider will help you determine how many treatment sessions you need based on the amount and distribution of your submental fat and your personal treatment goals. Up to 6 treatments may be administered, spaced no less than 1 month apart.
KYBELLA® may be right for you if:
You're bothered by fat under the chin, also known as submental fullness
You don't want surgery
You feel the condition makes you look older or heavier than you actually are
You eat well and exercise, but submental fullness does not go away
If most of these statements apply to you, ask your doctor if KYBELLA® is right for you. Before receiving treatment, tell your doctor about all of your medical conditions, including if you: have had or plan to have surgery on your face, neck, or chin; have had cosmetic treatments on your face, neck, or chin; have had or have medical conditions in or near the neck area; have had or have trouble swallowing; have bleeding problems; are pregnant or plan to become pregnant (it is not known if KYBELLA® will harm your unborn baby); or are breastfeeding or plan to breastfeed (it is not known if KYBELLA® passes into your breast milk; talk to your healthcare provider about the best way to feed your baby if you receive KYBELLA®).

THE PATIENT AND ANY OTHER PERSON RESPONSIBLE FOR PAYMENT HAS A RIGHT TO REFUSE TO PAY, CANCEL PAYMENT, OR BE REIMBURSED FOR PAYMENT FOR ANY OTHER SERVICE, EXAMINATION, OR TREATMENT THAT IS PERFORMED AS A RESULT OF AND WITHIN 72 HOURS OF RESPONDING TO THE ADVERTISEMENT FOR THE FREE, DISCOUNTED FEE, OR REDUCED FEE SERVICE, EXAMINATION, OR TREATMENT. D9999 TMJ and aesthetic treatments, Dr. Eric Burgess DN14265. Expires 3/31/18.