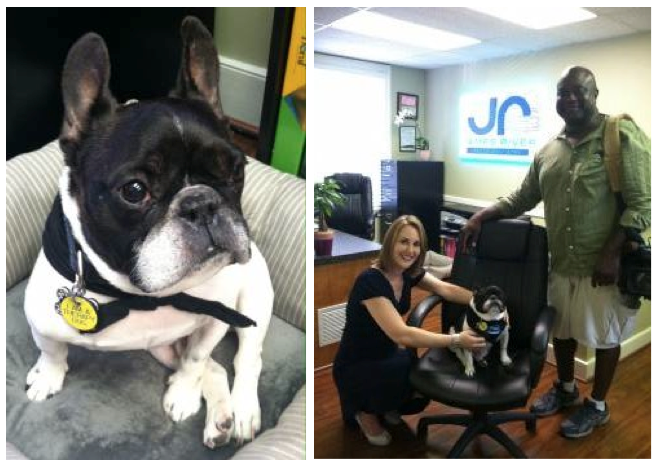 RICHMOND, Va. (WRIC) – Whether it's the sound of the drill or the thought of an extraction, a lot of people fear going to the dentist, but now there's a growing trend allowing appointments to be more of a warm and fuzzy experience.
"Buster! Hi, baby! How are you doing today?" says Jody Miller as she enters James River Family Dentistry. Buster is the resident therapy dog at the Bon Air dental practice.
"The holistic happy pill that he is," Dr. Marci Guthrie describes her French Bulldog who has been on the job a little over six years. She says he has been the best medicine for nervous children and adults who come in for routine visits and more.
"Fillings and cavities getting drilled out and then cleaning," patient Nichole Hurst lists all of the treatments she has actually enjoyed since meeting Buster. "He's always so nice. He's really chill."
"Buster is a natural at just reducing anxieties and putting smiles on patients' faces and helping to reduce their fears of just walking in the door which is half the battle," says Dr. Guthrie. One study found as many as 20% of Americans do not go to the dentist because of a fear of the unknown, the equipment or another phobia.
Jody Miller understands all too well. "My first anxiety attack ever was in a dental chair, and I have not had one since I've been here."
"The calm comes over their body, the smiles on their faces," says Sarah Babcock, a therapy dog evaluator with the Richmond SPCA Paws for Health program. She is not surprised that dental practices are catching on to this valuable therapy widely used in other areas of medicine. "They've done a lot of research that suggests blood pressure goes down and there's lots of good physical things that happen to them, people when they're visiting with therapy dogs, but it's very obvious when you're watching the joy that they bring."
"He's just so sweet and loving," Sandra Jones says, holding Buster in her lap in the James River Family Practice waiting room, where he immediately soothes patient fears. Years ago Jones passed out when she saw a Novocaine needle at another practice, but now she calls Buster her tranquilizer. "You walk in here, maybe you're anxious and Buster comes over and greets you and just calms you down."
There is a link between a lack of dental care and Diabetes, Heart Disease, Osteoporosis and other conditions. Now for some patients, dogs like Buster are the gateway to better health.
"It is a wonderful experience to see these patients' faces light up simply at the sight of him," says Dr. Guthrie. "Some even come by to visit, just to say hi to him when they don't even have appointments."
Dr. Guthrie says she has seen all patients benefit, including those with special needs. Post-Traumatic Stress Syndrome, Autism and Down Syndrome are just a few of her patients' conditions. Buster also recently went to the Mission of Mercy dental clinic for the Special Olympics to help ease patients.
Copyright 2014 by Young Broadcasting of Richmond
Source: ABC News 8